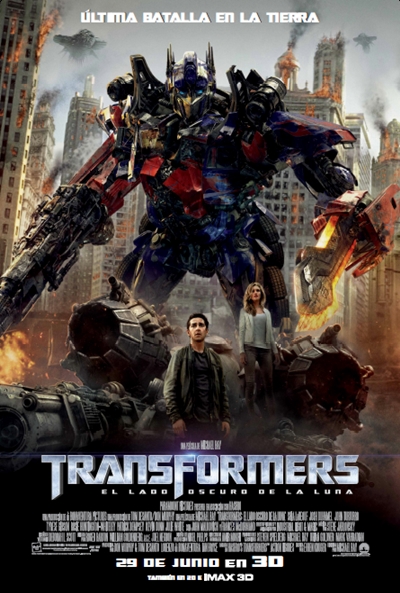 Los Autobots Bumblebee, Ratchet, Ironhide y Sideswipe, encabezados por Optimus Prime, vuelven a la acción, enfrentándose a los malvados Decepticons, quienes están determinados a ajustar cuentas por su derrota de 2009 en 'Transformers 2: La Venganza de los Caídos'. En esta nueva película los Autobots y los Decepticons se involucran en la peligrosa carrera espacial entre los Estados Unidos y Rusia, y una vez más el humano Sam Witwicky tendrá que acudir al rescate de sus amigos robots. También hay nuevos personajes, incluyendo a un nuevo villano que toma la forma de Shockwave, y un viejo conocido de los Transformers que reina en Cybertron mientras los Autobots y Decepticons luchan en la Tierra.
Título: Transformers: El lado oscuro de la Luna Título original: Transformers: Dark of The Moon País: USA Estreno en USA: 29/06/2011 Estreno en España: 29/06/2011 Productora: DreamWorks Pictures (Paramount) Director: Michael Bay Guión: Ehren Kruger Reparto: Shia LaBeouf, Rosie Huntington-Whiteley, Josh Duhamel, Ken Jeong, Hugo Weaving, Tyrese Gibson, Patrick Dempsey, John Malkovich, Leonard Nimoy, Alan Tudyk, Frances McDormand, John Turturro, Peter Cullen, Frank Welker, Tom Kenny
- Standard -( x ) NTSC. - Audio -( x ) Ingles - Audio -( x ) Dolby Digital 5.1 - Subtítulos -( x ) Ingles.( x ) Español Latino - Aspect ratio -( x ) Widescreen 16:9 - Video -( x ) Untouched. - Menú -( x ) Custom.Región -( x ) Region Free "Libre".
http://adf.ly/23kdQ
http://adf.ly/23keS