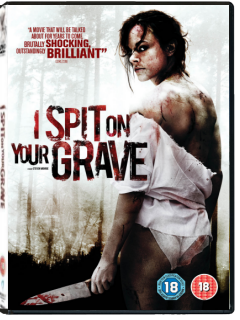 I Spit On Your Grave DVDR NTCS nos cuenta la historia de Jennifer Hills,
una chica de ciudad que alquila una aislada cabaña en la montaña para
escribir su última novela. Una terrorífica tarde, un grupo de hombres del
lugar asalta la cabaña y violan a Jennifer, a la que dejan prácticamente
muerta. Pero Jennifer sobrevive, y consumida por la venganza, les
devolverá sus actos atroces de una manera que nunca llegarán a imaginar.
Remake de "Day of the Woman" (1978).




TÍTULO ORIGINAL: I Spit on Your Grave / Escupire Sobre Tu Tumba
AÑO: 2010
DURACIÓN: 107 min.
PAÍS: USA
DIRECTOR: Steven R. Monroe
GUIÓN: Stuart Morse (Remake: Meir Zarchi)
MÚSICA: Corey A. Jackson
FOTOGRAFÍA: Neil Lisk
REPARTO: Sarah Butler, Chad Lindberg, Daniel Franzese, Tracey Walter, Rodney Eastman, Jeff Branson, Mollie Milligan, Saxon Sharbino, Amber Dawn Landrum
PRODUCTORA: Cinetel Films Anchor Bay Entertainment
GÉNERO: Terror




- Standard -( x ) NTSC. - Audio -( x ) Ingles
- Audio -( x ) Dolby Digital 5.1 - Subtítulos -( x ) Ingles.( x ) Español Latino
- Aspect ratio -( x ) Widescreen 16:9 - Video -( x ) Untouched.
- Menú -( x ) Intacto..- Región -( x ) Region Free "Libre".




http://www.megaupload.com/?d=I36TMA40

o

http://www.multiupload.com/S34OFTO4HB