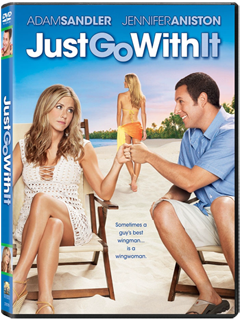 Just go with it, es una comedia romantica protagonizada por Adam Sandler y Jennifer Aniston. En está, Danny (Sandler) es un cirujano plastico el cual finge estar casado y el cual se encuentra pasando a la vez por momentos muy tormentosos en su relación para así ganarse la lástima y compasión de bellas mujeres. Para así al final terminar consiguiendo algo más que un beso por parte de ellas. En una fiesta, Danny se topa con Palmer (Brooklyn Decker) y cree que ella será con quien pase el resto de su vida, sin embargo ella encuentra en un bolsillo de Danny un anillo de compromiso y se niega a seguirlo viendo si no es que este le explique convincentemente una razón por la cual él portaba con el anillo (ya que lo conocio sin este). Ahi es cuando entra Katherine (Jennifer Aniston) quien trabaja con Danny y cae en el chantaje de este y se hace pasar por la próxima ex esposa del mismo…a partir de ahí una serie de eventos y confusiones se comienzan a dar en el resto de la cinta.
Titulo: Just Go with It
Director: Dennis Dugan
Pais: USA
Genero: Comedia | Romance
Reparto: Adam Sandler, Jennifer Aniston, Brooklyn Decker, Nicole Kidman, Heidi Montag, Bailee Madison, Nick Swardson, Minka Kelly, Griffin Gluck, Dave Matthews, Lori Heuring, Andy Roddick
Duración: 01h-51min aprox
- Standard -( x ) NTSC. - Audio -( x ) Ingles.( x ) Español Latino
- Audio -( x ) Dolby Digital 5.1 - Subtítulos -( x ) Ingles.( x ) Español Latino
- Aspect ratio -( x ) Widescreen 16:9 - Video -( x ) Untouched.
- Menú -( x ) Intacto..- Región -( x ) Region Free "Libre".
http://www.megaupload.com/?d=PW2MT795
o
http://www.multiupload.com/NUMFQZ42SK