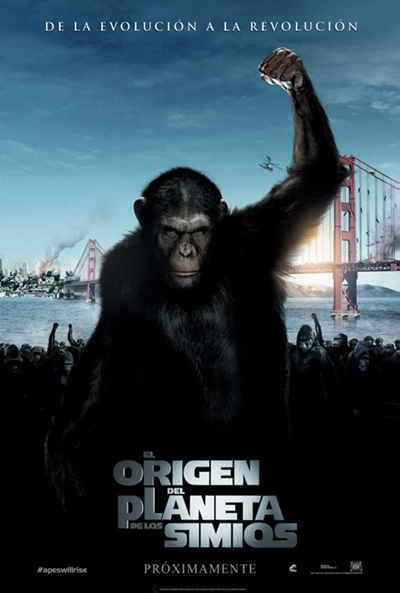 Un simple acto de compasión y arrogancia provoca una guerra sin precedentes y el Origen del Planeta de los Simios. El equipo ganador de un Oscar® por los efectos visuales responsables de la creación de los mundos de Avatar y El Señor de los Anillos abre nuevos caminos creando un simio por CGI, una interpretación nunca vista de inteligencia y emoción, y unas batallas épicas sobre las cuales penden los destinos de la raza humana y de los primates.
Título: El origen del Planeta de los Simios
Título original: Rise of the Planet of the Apes
País: USA
Estreno en USA: 05/08/2011
Estreno en España: 05/08/2011
Productora: 20th Century Fox
Director: Rupert Wyatt
Guión: Amanda Silver, Rick Jaffa
Reparto: James Franco, John Lithgow, Freida Pinto, Andy Serkis, Brian Cox, Tom Felton, David Oyelowo
Calificación: No recomendada para menores de 12 años
- Standard -( x ) NTSC. - Audio -( x ) Ingles
- Audio -( x ) Dolby Digital 5.1 - Subtítulos -( x ) Ingles.( x ) Español Latino
- Aspect ratio -( x ) Widescreen 16:9 - Video -( x ) Untouched.
- Menú -( x Custom.- Región -( x ) Region Free "Libre".
http://www.megaupload.com/?d=ZXJ1MM3K
o
http://www.mediafire.com/?z6ie3z9g22n4bny
o
http://www.multiupload.com/MH8JATPEA9
Fileserve


Pass.karlita