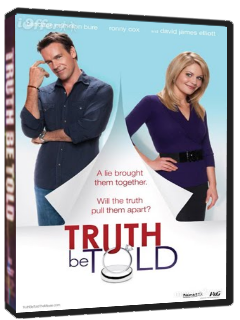 "Truth Be Told" juega con el viejo adagio, de: "la honestidad es la mejor política", y de acuerdo con el lider consejero de matrimonio de Colorado, Annie Morgan, la honestidad es la clave del éxito de relaciones a largo plazo. Irónicamente, Annie nunca se ha casado y no siempre sigue su propio consejo. Por un malentendido, Annie recibe una invitación para ella y su esposo para unirse a magnate de los medios Terrance Bishop, en su rancho de Nuevo México para hablar del trabajo de sus sueños: organizar un programa de radio de consejos. Temerosos de que la soltería va a arruinar su oportunidad de su vida, Annie conspira con la marca Crane, un amigo de la universidad, viudo reciente, y padre de dos adolescentes, para hacerse pasar por una pareja casada para el fin de semana. Una serie de malentendidos cómicos color del viaje, dejando a Annie involucrada emocionalmente con la familia de Marcos y luchando con su propia conciencia. A medida que la entretenida y conmovedora historia se desarrolla, Annie comienza a darse cuenta de que la verdad puede tener sus consecuencias, pero al final es lo que nos abre el corazón y saca lo mejor de cada uno.





Titulo: Truth Be Told
Año: 2011
País: USA
Duración: 95 min.
Director: Jonathan Frakes
Escritor: Wesley Bishop, Alan Marc Levy
Reparto: Tina Borek, Chris Brochu, Candace Cameron Bure, Ronny Cox, Antonia DeNardo, Deanna Douglas, David James Elliott, Esodie Geiger, Danny Gokey, Emma Gould, Cliff Gravel, Johnnie Hector.
Género: Comedia.





- Standard -( x ) NTSC. - Audio -( x ) Ingles ( x ) Español Latino
- Audio -( x ) Dolby Digital 5.1 - Subtítulos -( x ) Ingles.( x ) Español Latino
- Aspect ratio -( x ) Widescreen 16:9 - Video -( x ) Untouched.
- Menú -( x ) Intacto..- Región -( x ) Region Free "Libre".


[img=http://i25.lulzimg.com/817619.png[/img]



http://www.megaupload.com/?d=WEYBVLSW

o

http://www.mediafire.com/?atbx9bot8166za1

o

http://www.multiupload.com/522FQMG3CK



Fileserve